New York: City of Dreams
A Big Apple Reader for Beginner Students of ESOL
"Unique and up-to-date. Covers essential aspects of life in New York City. An amazing book!"
-Natalie Graham, ESOL instructor, Brooklyn New York.
.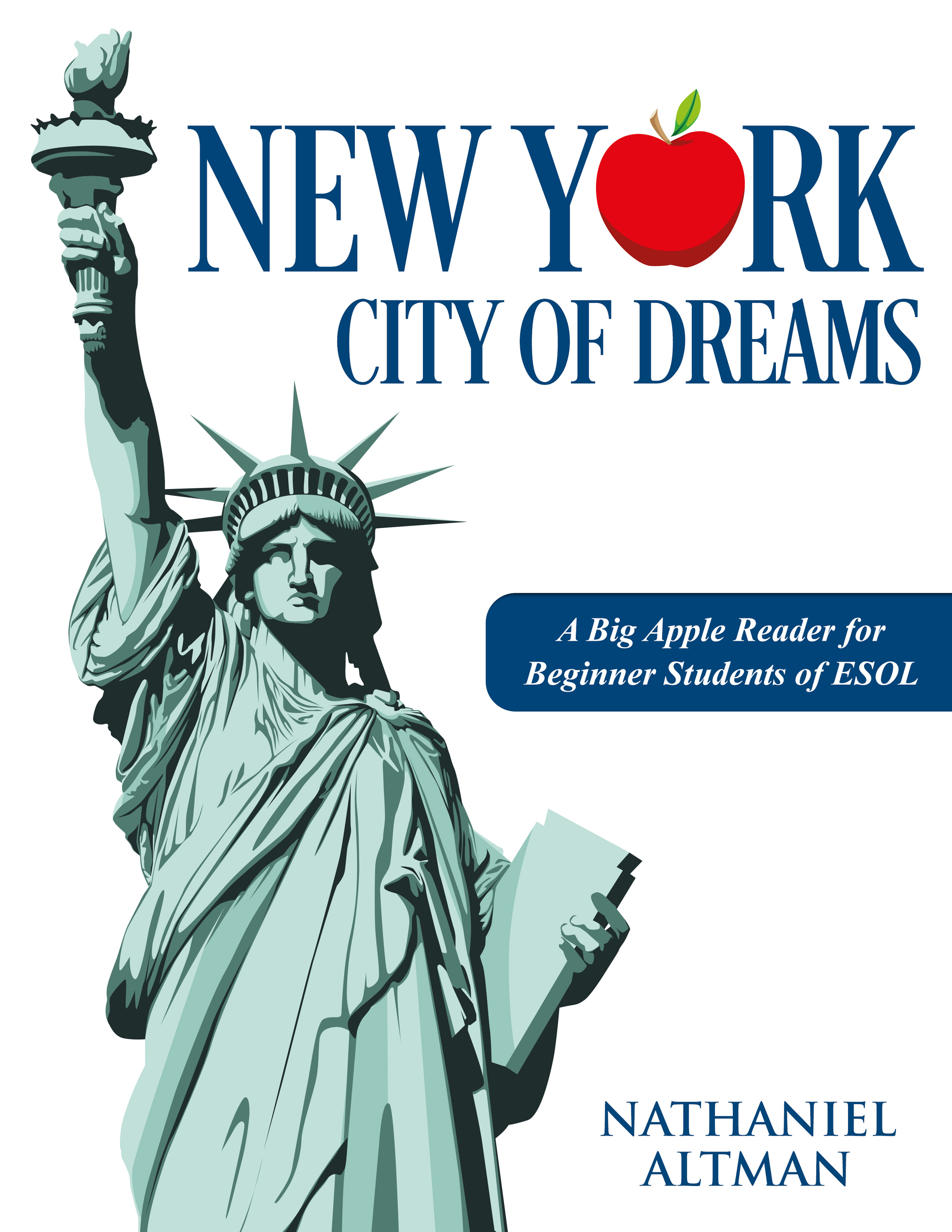 New York: City of Dreams offers 28 reading selections about New York City: its history and culture, customs, getting around, where to go, what to see and what to do.
Most of the topics are common knowledge to people who have grown up in New York City, but are new and interesting to visitors and immigrants.
This book was written mostly for beginner students of ESOL, but it can also be useful to ABE-HSE and EL-Civics students. It provides vocabulary practice, comprehension exercises, grammar points and follow-up discussion suggestions.
Written by an ESOL teacher who is also a native New Yorker, City of Dreams is part cultural reader, part guidebook and part vocabulary and conversation textbook. Along with its companion volume New York: City of Opportunity (written for higher level students), it is the first ESOL reader about the Big Apple.
Table of Contents
Part I. The City    
1. Welcome to New York City!          
2. New York City's First People    
3. Old New York: 1524-1898    
4. Manhattan    
5. Brooklyn    
6. Queens    
7. The Bronx    
8. Staten Island    
Part II. Getting Around    
9. The New York City Subway    
10. Riding the Subway    
11. Riding the Bus    
Part III. Things about NYC    
12. New York City Says "Hi" to You!     
13. Stay Safe    
14. Emergency 911 and Non-Emergency 311    
15. Finding a Good Restaurant    
16. Tipping    
17. Public Libraries in New York City    
18. Theater, Music and Dance!    
Part IV. Where to Go, What to Do    
19. Times Square    
20. Central Park    
21. The High Line      
22. The Metropolitan Museum of Art    
23. The National Museum of the American Indian    
24. Three Quiet Places in Manhattan    
25. A Walk across the Brooklyn Bridge    
26. The Brooklyn Botanic Garden    
27. The Staten Island Ferry      
28. Study English in NYC    
Talk Together (classroom conversations)    
NYC Links     (online contacts)
Answer Key to Exercises    

-
New York: City of Dreams
ISBN: 978-1-7261956-1-4. August, 2018. Gaupo Publishing ESOL/Createspace. 141 pages, 73 b&w illustrations, 8.5" x 11". $6.95 (paperback); $3.95 (Kindle edition). Foreign Language Study/ English as a Second Language.
The Kindle edition can be used on a variety of e-readers.
To order the paperback edition of New York; City of Dreams, click here.
To learn about New York: City of Opportunity, click here.
To return to the Home Page, click the image.